Staying busy is definitely a great thing when running a boudoir photography business so no complaints there! However, updating our Website and blog with our most current images and amazing clients…well that has been challenging to say the least! We have so much to share from last year and this year is already shaping up to be our best year yet! We could not do this if it wasn't for our clients and the amazing energy and inspiration that they give us!
So many of our clients come to us excited yet nervous about a boudoir session.  And I completely understand the nervousness.  1. You more than likely have never done anything like this so you don't know what to expect as far as how you will feel or do.  2. Most women are insecure about their bodies and how they look.  They don't feel like they can make sexy faces or say that they "don't have a sexy bone in their body,"  or that "if I can look even close to as good as the girls on your website I will be happy."  3.  You wouldn't be alone if you admitted that even in the ladies locker room you awkwardly try to dress yourself while keeping your towel wrapped around you, lol.  I know I have done it!  So being barely dressed in front of strangers is not exactly on the top of your list of things to do.  But let me tell you something… Now over half the ladies on our site are clients that are not models.  They are hard working stay at home moms, new brides, moms who work their butts off outside of the home as well as at home.  Our job is to make you feel comfortable enough to let go and flirt a little.  To guide you and give you the confidence to throw your hair around and allow yourself to feel beautiful AND sexy.  The # 1 things I hear clients say after their session with us is "Wow I can't believe how comfortable you guys made me feel." "Thank you for making what I thought would be a totally awkward and nerve racking experience into such a comfortable and fun time!"  "You guys are awesome and you rock!"  This is music to my ears and fills my soul with joy.  We love showing women how beautiful they are, because to us every woman is beautiful.  The people that love you, your friends your husband, do not look at you and think I wish she had thinner thighs, if only she didn't have cellulite and stretch marks or I wish she would wear more makeup.  They see your beautiful smile and your eyes sparkle when you laugh.  They see a person they love and when you love someone you do not see their flaws, because to you they are flawless.  We want to show you that beauty that other people see and we want to help you feel more confident and comfortable in your own skin! There is no perfect woman, no perfect body size or shape, there is just being and owning the beautiful woman that God made you.
Here is an example of a beautiful mother of 2 who wanted to do this for her husband, who was a little worried her tummy was too flabby after kids and hoped she could look half as good as the girls we have featured on our site.  I think you would agree she looks amazing and is a beautiful woman!
And here are some of the things she had to say after her shoot.  "You guys are amazing and I'm so thankful I found you.  I can't wait to give him the book and show my friends!" "Thank you guys again!  I/we will cherish these forever!"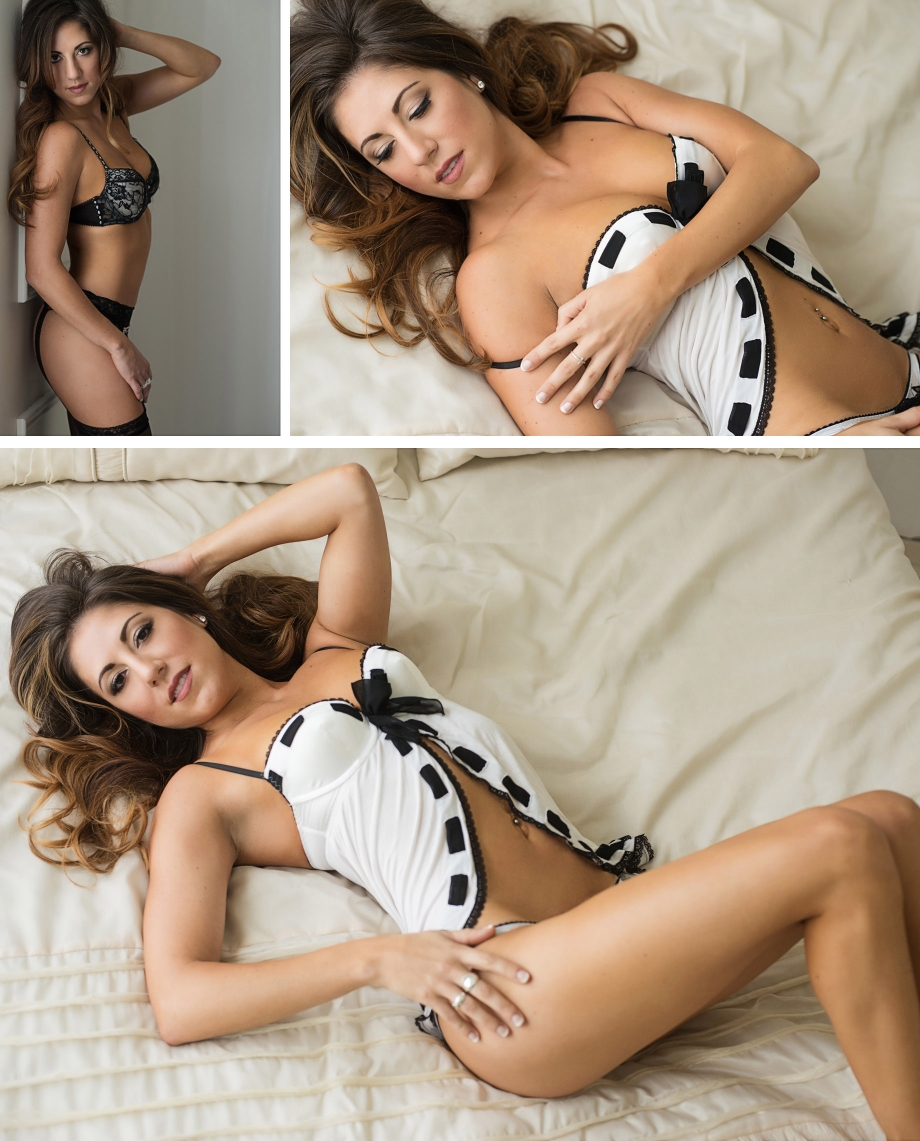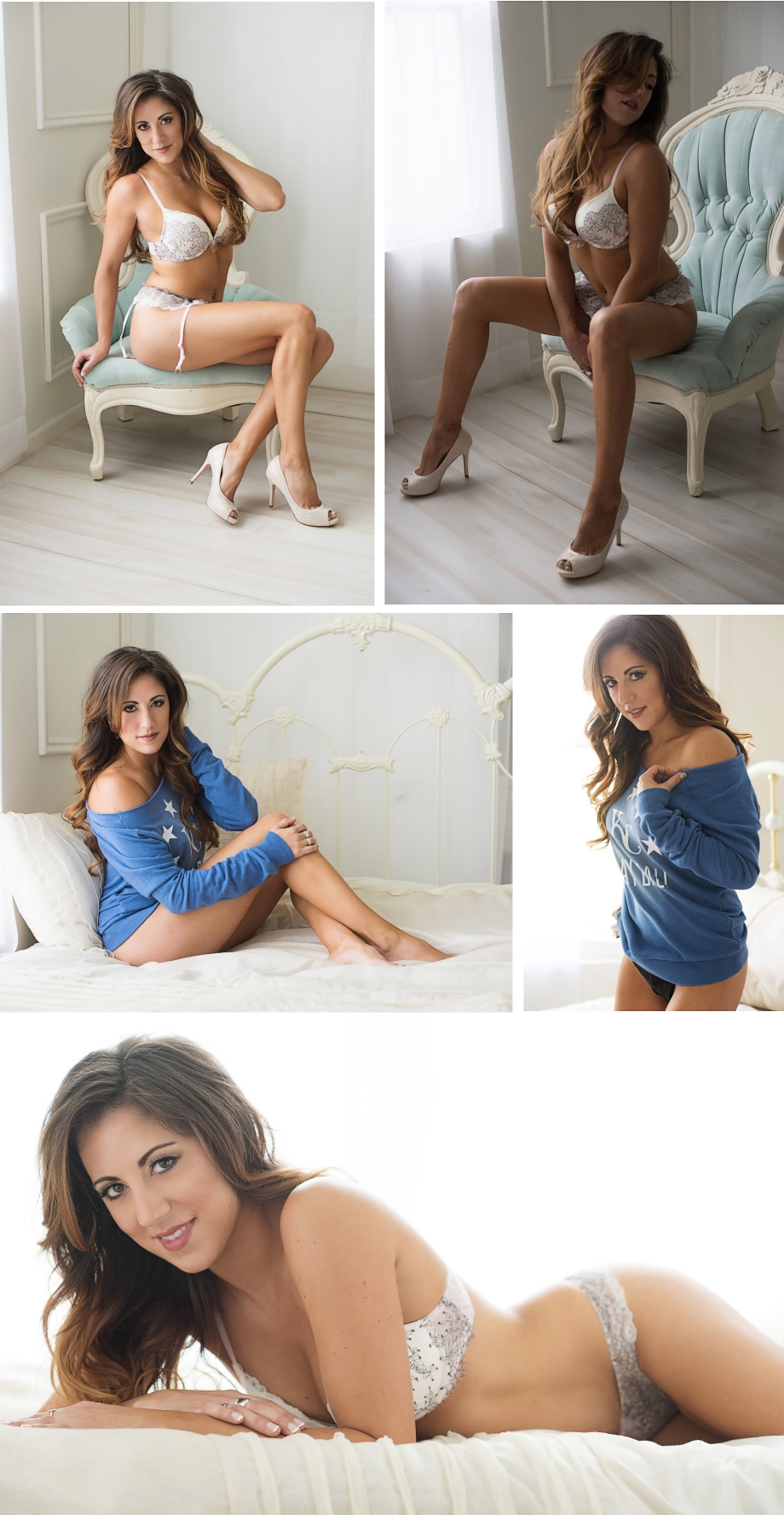 My goal in featuring before and afters is to show that these are real everyday woman and the power of makeup and hair.  I know I feel better about myself when I see celebrities without their makeup.  I don't think "haha they look like crap."  I think "Yay they look like me dropping my kid off at school.  They are still beautiful without makeup and when they get all glammed up they look extra amazing!"  This was part of my reasoning for pursuing boudoir and beauty photography.  When I was young I desperately wanted to do Glamour Shots (you know the one in the mall where they did your hair and makeup and had sparkly jackets and feather boas) because I wanted somewhere that i could have my hair and makeup done and my photo taken to feel and look as beautiful as the women in magazines.  Well I didn't get to do Glamour Shots, but I did hone in my makeup and hairstyling skills and now, when I want to, I can look and feel as polished and beautiful as those women in the magazines and you can too!  I even offer makeup lessons so you can up your makeup game if you want