I feel like I have known this couple and their friends for years now 🙂  Even though it has only been a couple of years they are part of an amazing group of friends that we have photographed over the past year, and they all feel like family now 🙂  We adored Paul and Hannah's energy and their affection for each other right away when we first met them.  After they left I said to Joe, "I might cry if they don't book us!"  Thanks for not making me cry guys 🙂 lol.  I said this story recently because we just photographed Erica's wedding in May. But here it is again because I think it is fun.  So Hannah and her good friend Erica had been busy planning their weddings and hadn't gotten together to chat much.  So one day when they finally did get together they were so excited to tell each other about their weddings and the awesome photographers they had just booked.  Then it turns out they had both found and booked us without even knowing it.  So added bonus they get to see us at both weddings and we get to see them at both weddings.  Woo hoo! 🙂
Paul and Hannah are adorable together.  They are both so full of energy and life.  Hannah is ridiculously sweet and gorgeous as well as fun and Paul is super handsome, hilarious and of course a good caring man that takes good care of his lady 🙂  Whenever they are near each other they can't keep from smiling or putting their hands on each other 🙂  They had us smiling and laughing all day.  There were even a few times I almost peed my pants… almost.  I can't wait for you to see the love story and all the fun from their day.
Family and Friends can view their full gallery HERE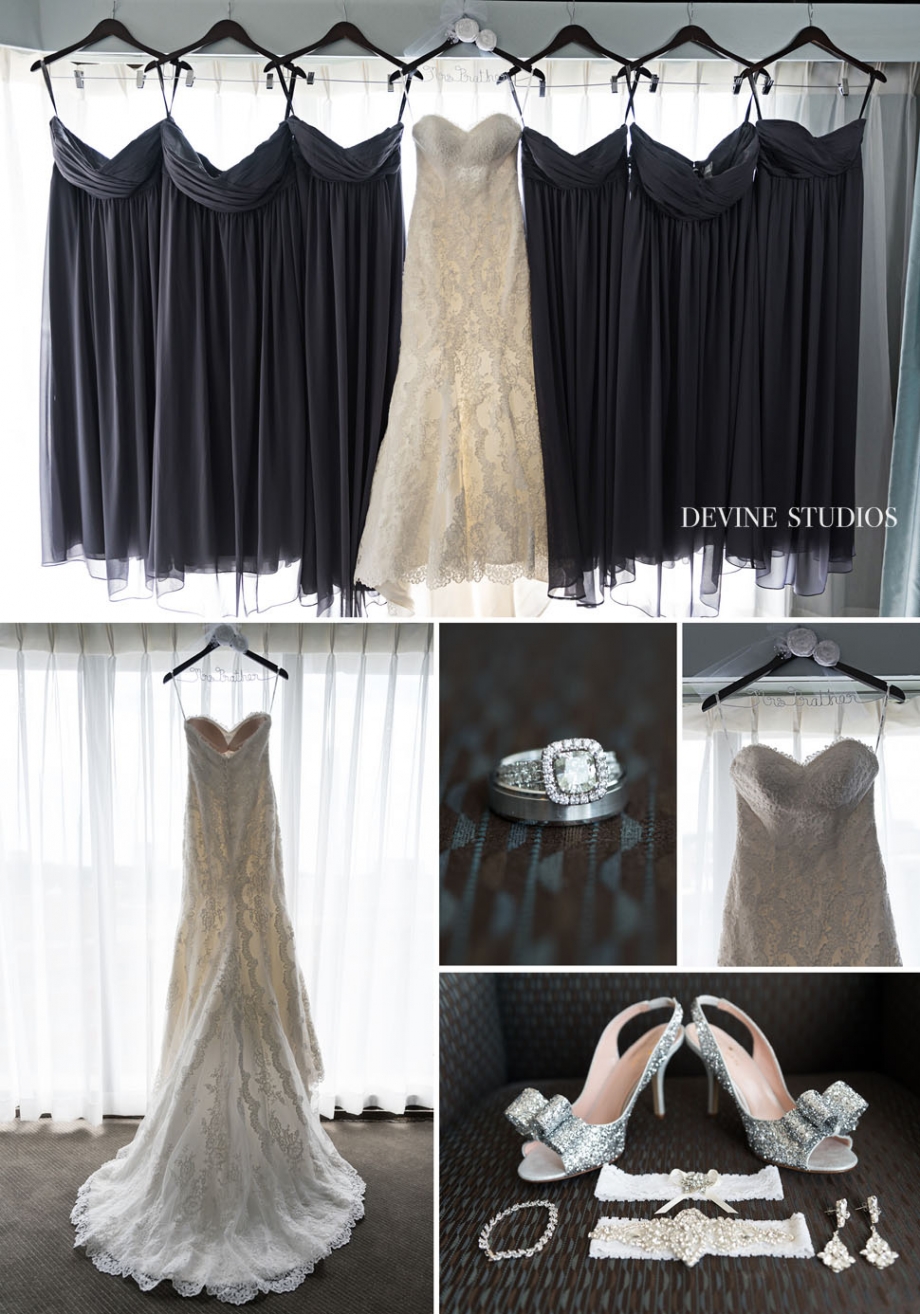 Yes please.  Hannah is going to look stunning in this dress.  She already looks stunning in her floral robe!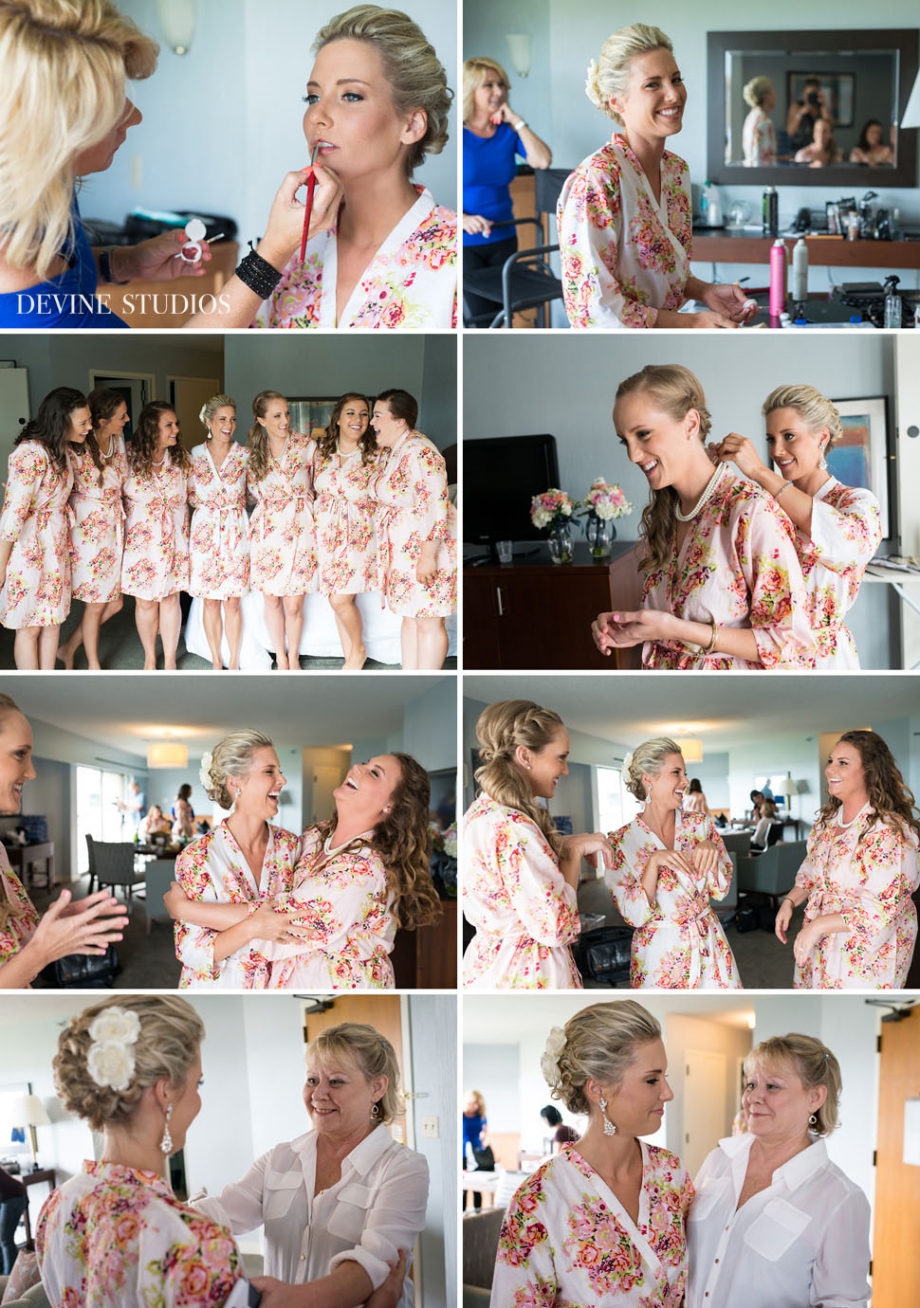 I love these goofy moments with her and her girls and this tender moment with her and her mother.  The ladies look pretty nice in those pink and coral floral robes 🙂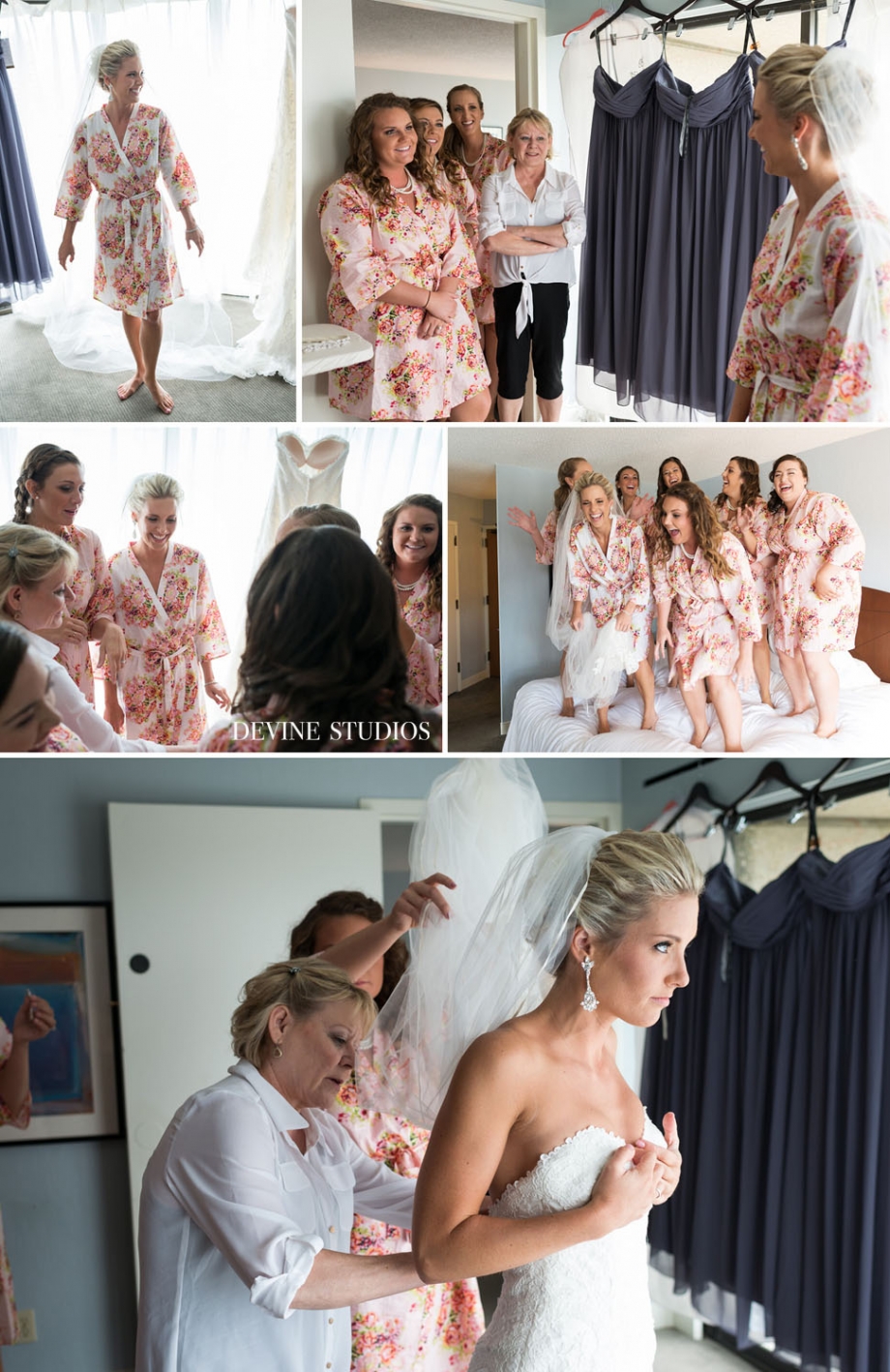 Ahh!  It's time to put that gorgeous dress on!  Things are getting real people.

Um wow, just WOW!  She looks like such a classic beauty.

Let's check in on the guys.  

Perfect, they are having a great time and they look extremely handsome!

Time for the first look.  Hannah was so nervous and excited.  She was supposed to walk to him as he turned around.  But once he turned around she just froze, then her handsome groom came running to her 🙂  It was pretty precious 🙂

Oh yeah.  Show it off Hannah!  They look so awesome together 🙂

Quick break in the bar while we wait for the bridal party to come down.  

Hey hey ladies.  Looking good!

I love these photos of Hannah.  I love getting to use different backgrounds and lighting.  Of course she would look amazing no matter where I put her 🙂

Hilarious bus ride.  This group was fun!  High Five!

Silly boys 🙂
Finally.  We have the bride and groom to ourselves.  Time for some magic.

Aww.  They look so cute together.  And Hannah is just radiating beauty.  Paul's kinda handsome too.  Right ladies?!?

Back to the air conditioned bus for more fun and to head to the church.

I love when we get to do a first look with the dad.  A lot of dad's are pretty emotional at seeing how beautiful their baby girl looks.  Especially in this case when that baby girl is his one and only.  She's all grown up dad.  *happy tear*

Adorableness!
I love the front of Our Lady of Sorrows.  Such beautiful columns!

Some really special moments before the ceremony.

I just love when Paul's dad teared up 🙂
And Paul's faces were pretty priceless as he watch his bride walk towards him.

A lot of happy tears 🙂


And then two became one.  They are married! 

Such gorgeous flowers!
The Monarch Room looked amazing!  I love all the lighting and uplighting and the city view through the window 🙂


The entrance would be not be complete with out the K-State Fight Song!

The speeches were both hilarious and thoughtful.  A lot of great moments and faces during them.  


See?  A lot of laughter 🙂


And they dance!  He starts off by twirling his gorgeous bride around the dance floor.  Pretty smooth Paul, pretty smooth 🙂


Now the fun really steps up a notch. 


Thank you Paul and Hannah for having us be a part of your beautiful, amazing, adorable and fun filled wedding day.   We loved spending the day with you two!  And your friends and family are pretty cool too 🙂