Our first wedding of 2016 is on the blog and such an amazing couple to start the year off with!  Kurt and Megan are a power couple, literally 🙂  Not only do they love weight lifting together (which is how they met) their last name is Power!  Megan first met Kurt when he became her personal trainer – nice work benefits 🙂  Of course you are not supposed to date your customers, but the connection between these two was undeniable, so an exception had to be made 🙂  It has been so wonderful being a part of their journey to and on their wedding day.  I love seeing the deep and fun connections our couples have with their friends and family throughout the day.  Megan is outgoing and fun and never afraid to dance it out in public when she feels the need.  She also has some serious muscles and impressive biceps.  I guess falling in love with and marrying a personal trainer has its perks 🙂  Kurt is kind, extremely caring and strong both physically and emotionally.  I love hearing their friends and family talk about them during the speeches.  The love and support they have given their friends and family really shows in their words and in how they give love and support back to them.  Here are the beautiful highlights and story of their wedding day.  I hope you enjoy all the beautiful moments and laughter and the beautiful photographs we captured.
Friends and family can view and purchase prints from their full wedding gallery HERE

When you love Disney World, you have to have custom Minnie Mouse bridesmaids hats 🙂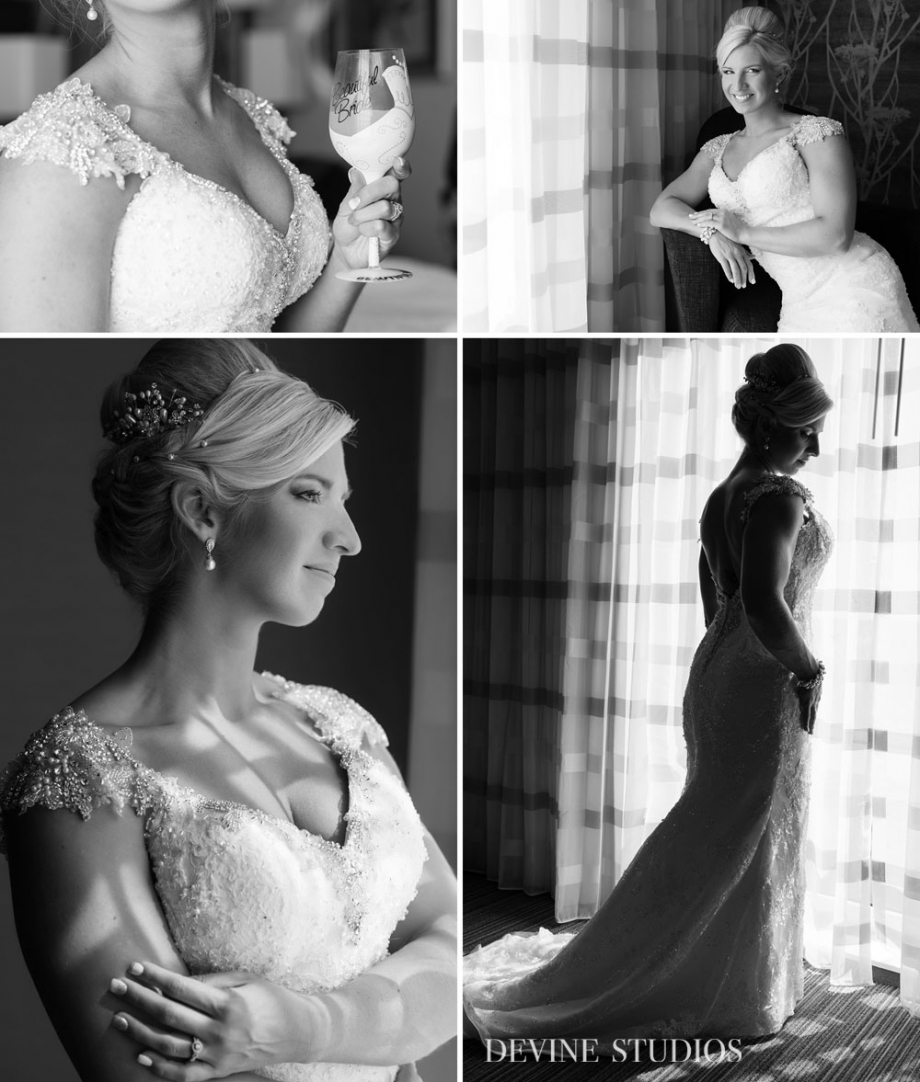 I love black and whites in fun window light.  She looks so stunning!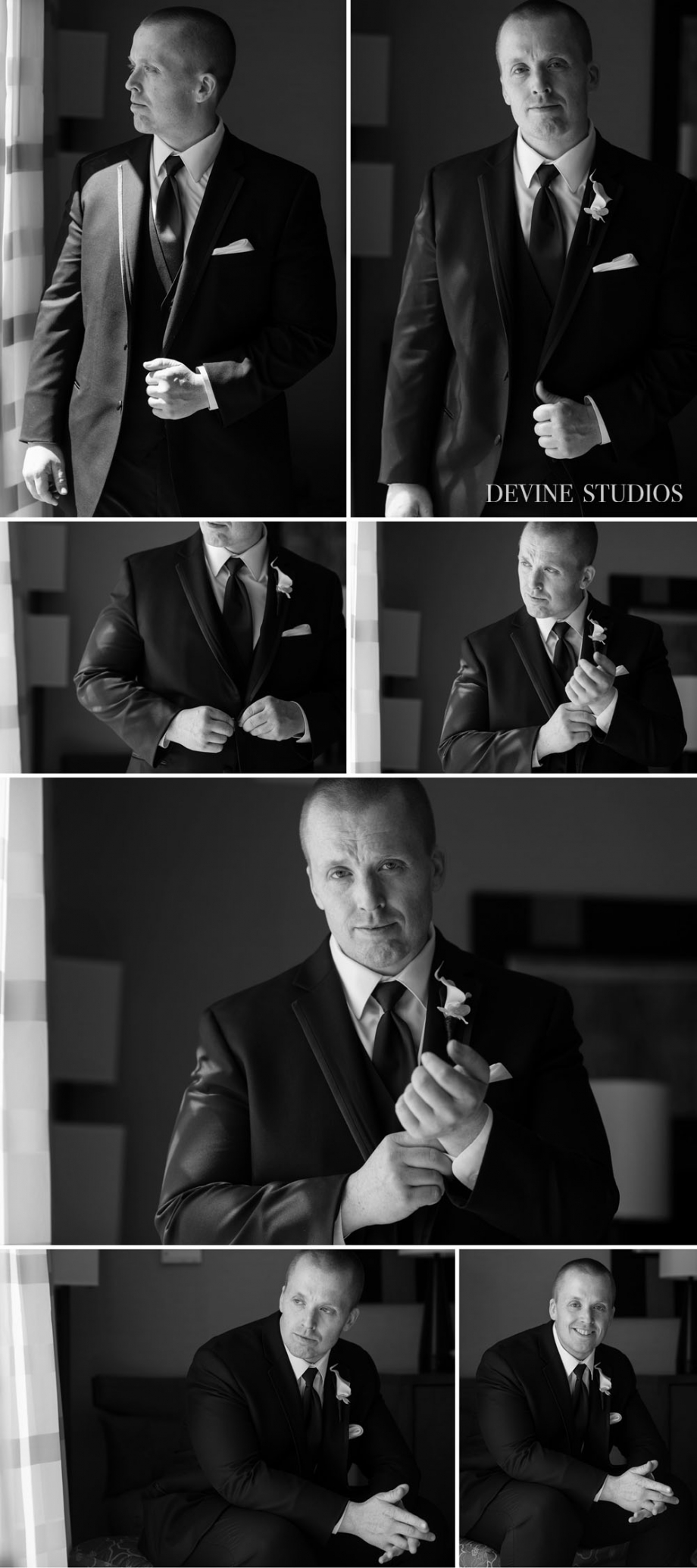 Well hello 007 Mr. James Bond!  Lookin good there Kurt.  Way to work that window light 🙂

Seriously the bride looks stunning here on these soft colored stairs with her all white dress and bouquet.  And whoa, holy moly-her figure in that dress!  Perfection!  Gotta love her momma showing off her white wedding boots and the Power P made out of flowers to start the day! Go team Power.

The men look pretty dashing and we even got her brother to smile, which is not an easy feat!

Absolutely love the flowering trees at Briarcliff park.  The bride and bridesmaids looked beautiful against all those white flowers.  Every wedding we are looking around at our surroundings and our subjects and searching our creativity and the moment for out of the norm spectacular shots.  I just love this shot Joe got of Megan as she was walking away through the flowering trees.  That's a framer!

Kurt got his best men official Wrestling Champion belts and all of his groomsmen Wrestling Champion rings.  It made for some fun pictures.

I love how emotional Megan's dad got when he saw her for the first time.  I mean how could he not, she looked breathtaking.  And her mother's energy and excitement was adorable and kept bringing a smile to everyone's face 🙂

Kurt also got emotional as he saw his beautiful bride walking down the isle towards him.  This was it.  The love of his life was now going to become his wife.

There was some fun lighting coming through the windows from the trees and it really added a uniqueness to these photos 🙂

So much beautiful emotion- smiles, laughs and happy tears are the best on wedding days

It's official!  Introducing Mr. and Mrs. Power!  Now off to Kauffman Center for some gorgeous sunset photos.

I love how strong and warm the sun was coming in on them and the prairie grass in these last images.

So freaking adorable together!

Joe couldn't resist the beautiful light coming through those flowered bushes, but it required sitting.  Good thing Megan and Kurt are always down for a great photo!  Now back to the reception to party!

Their intro was perfect.  They greeted the crowd like champions as Rocky music played.  Love it!

The speeches were thoughtful, emotional and hilarious.  I was definitely laughing and crying along with them.  Now let them eat cake!

The lights in the Pavilion looked amazing from the view on the starts so we had to get that kissing shot and them walking towards all of their guests 🙂

Ahh the moments.  I love first dances.  A chance to take a moment with each other and their parents and laugh, dance and cry tears of joy.  Now everybody dance and party!

Thank you Kurt and Megan for choosing us and trusting in us to capture all the beautiful moments of your wedding day.  We are so blessed to be able to do what we do and to have clients like you guys that make it all possible.  I know the future holds great things for this Power couple.  We wish you all the love and happiness that marriage can bring! 🙂