The Holidays and Christmas are quickly approaching!  Don't forget boudoir or beauty portraits as a gift to either yourself or your man.  This is one of the best gifts you can give yourself or him (something he can't buy in the store for himself)  We love what we do so much!  We strive to help every woman feel more comfortable, confidant and beautiful in their own skin.  Every session includes hair and makeup so we can help bring out and highlight your beauty.  And don't worry about knowing how to pose or make "sexy" faces.  We are experts at what we do and will guide and help you throughout the whole process.  It is so fun to see how beautiful you are through someone else's eyes, and to us all woman are beautiful no matter what shape, age or size.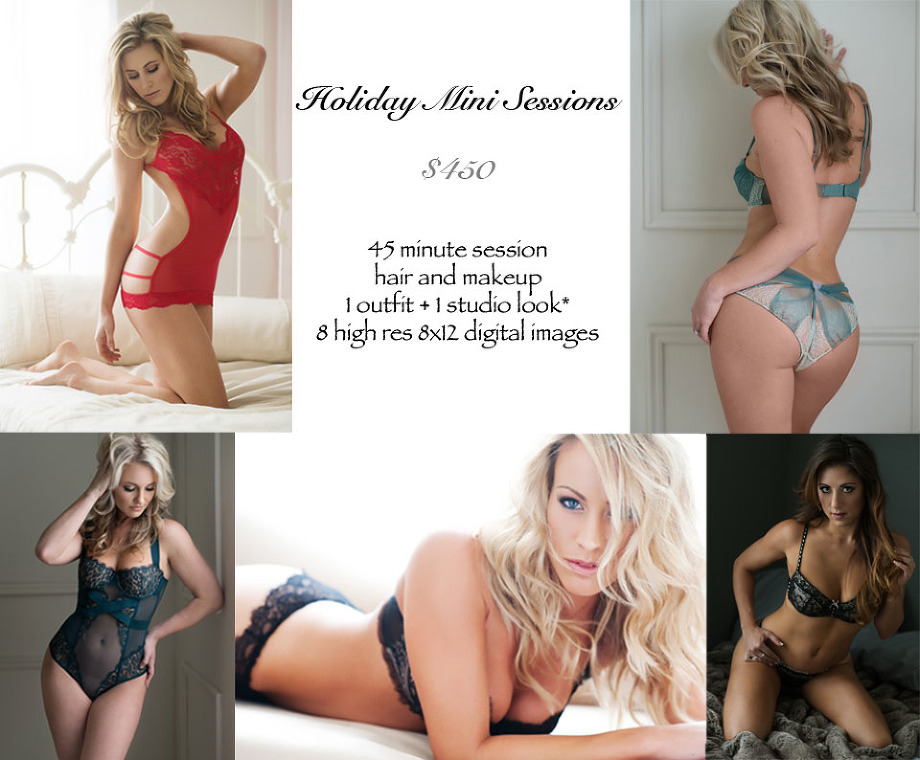 Spend and extra $300 and get a free ViewMaster or a 10 image accordion pocket book
And yes we use photoshop, but our goal is not to change you, it is to show you how beautiful you are to us, to your loved ones and to your man.  They say the camera adds 10 pounds and we plan on making sure you do not look 10 pounds heavier! 🙂  Have cellulite, stretch marks, some fat rolls here and there… Don't worry about them!  Even though you are beautiful and perfect just the way you are, as a woman I understand what it is like to feel like your thighs look fatter in a photo then they do in person, or be disgusted at a beautiful picture of yourself because you have a little tummy roll or back fat going on.  So we talk to our clients about any insecurities and the level of photoshop they would like.  If you have stretch marks or wrinkles or scars and you love them because they are who you are then we won't touch them!  But if you are more like me and would prefer them edited or softened then we can do that too! 🙂  Below are some examples of our studio looks and women from size 18 down to size 2.  Size doesn't define you or your beauty.  You are a woman and you are beautiful!  Love yourself and treat yourself to a little pampering and some gorgeous photos!

There is a $200 deposit to purchase this discounted package.  You must place your deposit by November 30th, 2015 to get this amazing discounted deal and you must schedule and complete your session by December 17th, 2015.  The remainder of the package is due at your ordering session which will be about 1 week after your photo shoot.  If you are not able to complete your session by 12/17/15 then your $200 deposit is good until 12/31/2016 towards any regular session.