This was our last wedding of 2015!  And what a great way to end the year.  The groom is actually cousins of a wonderful bride we just photographed in July, so we got to work with this awesome family twice 🙂  It is such a small world sometimes though because Lauren (the bride) found us on her own without knowing her soon to be cousin was using us as well.  And I am super glad they both found us! Brantley and Lauren are such sweet, loving and easy going people.  I hope you enjoy the highlights of their wedding day as much as we did.  There are some fun moments and commentary to below 🙂
Friends and family can view and purchase prints from their full wedding gallery HERE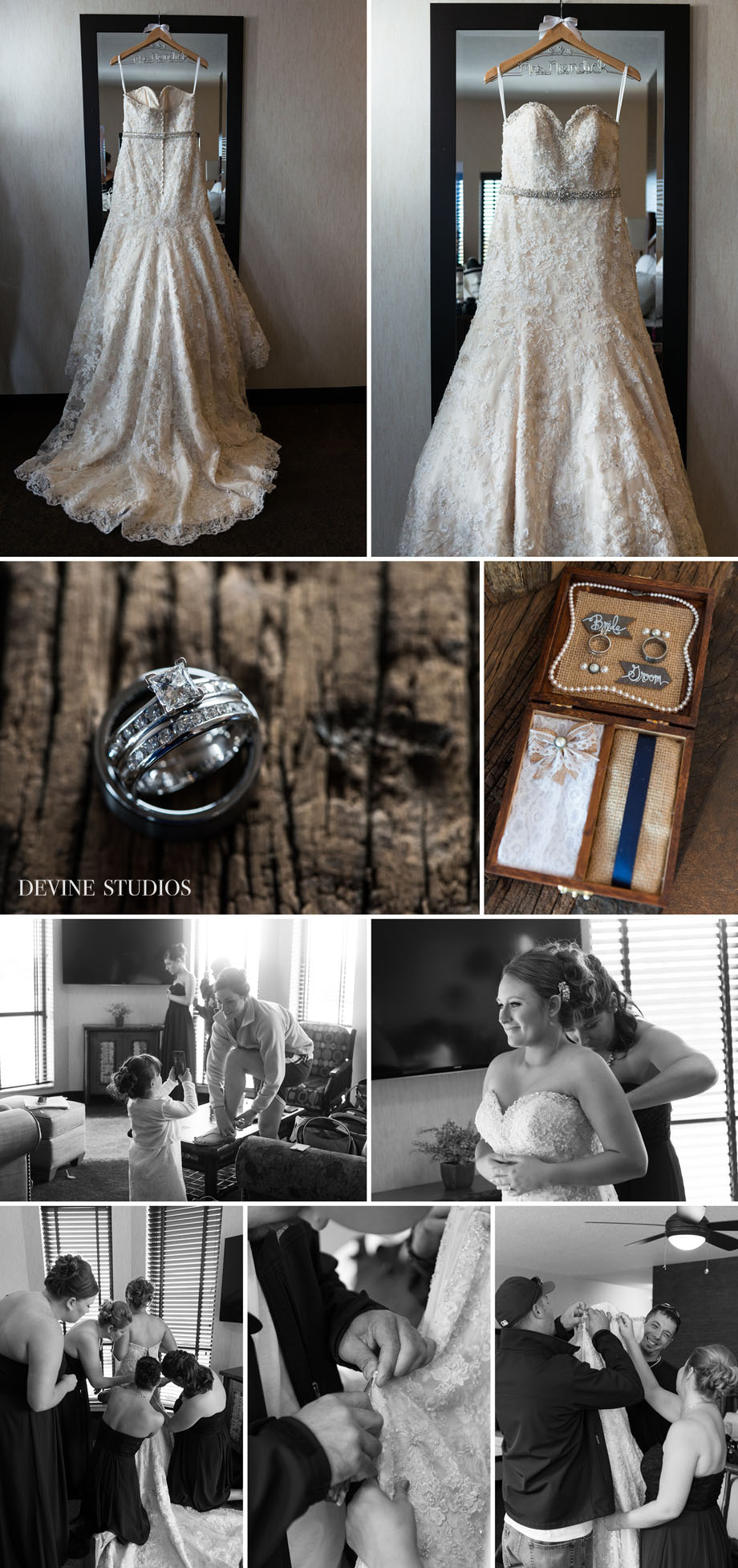 Lauren made such a beautiful handmade box for the rings.  She is quite talented, maybe she should open up an Etsy shop 🙂  So what is going on above and below?  The bridesmaids are zipping her into her dress… then she is out of the dress and her Brother-in-Law is using his utility knife on it.  Well, the zipper broke off and they couldn't get it reconnected.  So they thought they would at least try Macgyvering her into it before sewing her into it from hip to chest.  And thank goodness for him.  He cut out a few zipper spots at the bottom to reattach it and it zipped!  Yay!  Then they sewed the bottom and the top to be safe.  Ahh… stories to tell the children of your wedding day, lol 🙂  So I guess always have someone with Macgyver like skills and strong needle and thread on your wedding day just in case!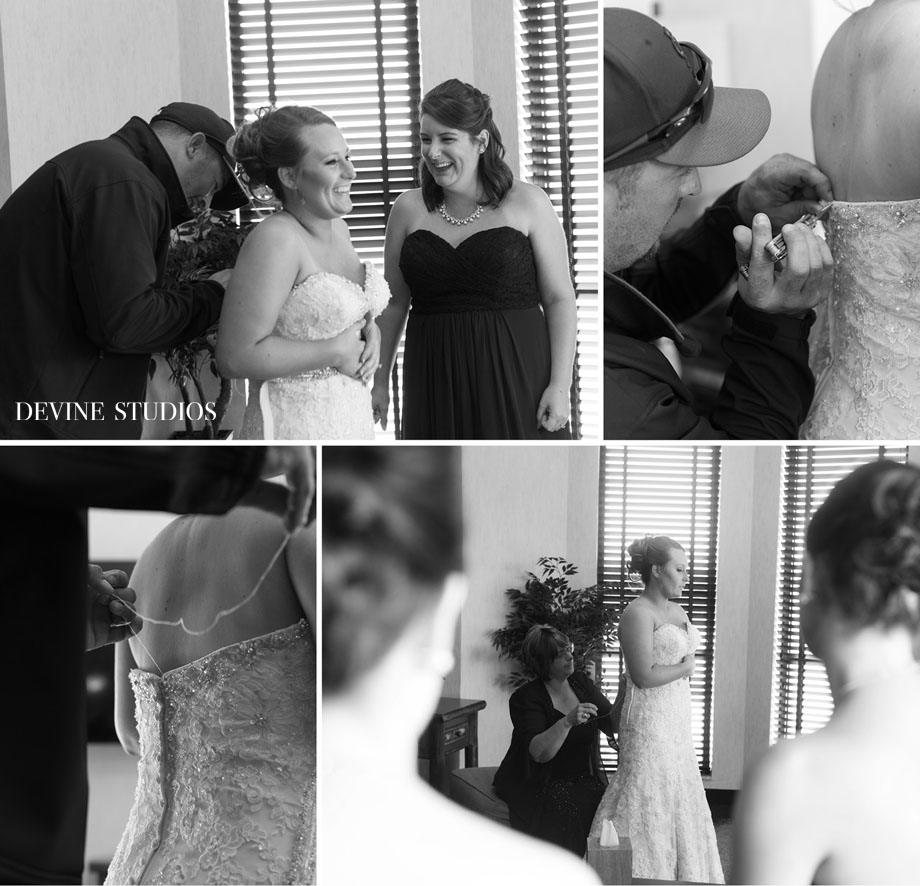 Lauren was so calm about it.  Either they were going to fix her dress or she was gonna get sewed into it!  Let's check on the men…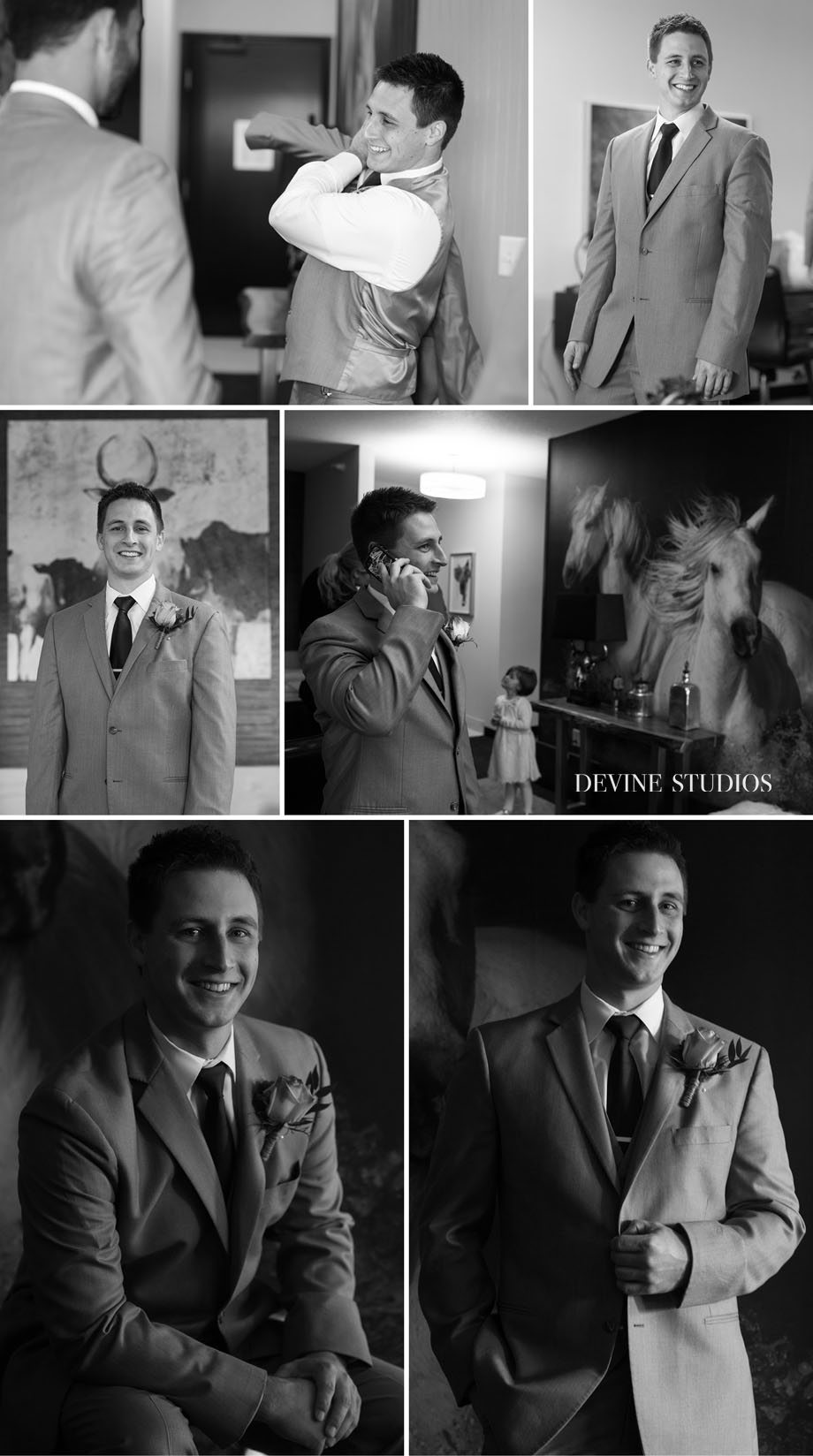 Their room had tons of horse pictures and decoration in it and since my husband knows me so well he had to get pictures with some of it in them.  That and the groom is a farm boy 🙂  Oh and when there are antlers, you must be photographed with antlers.  House rules, lol 🙂  He is lookin pretty good.  Ladies am I right?

I have no idea what is going on above.  Some sort of shocking picture I assume, but I am super glad Joe caught it on camera.  His brother's face still makes me laugh 🙂
Time for the first look!  Lauren looks radiant and ready to see her groom!

Aww… big sister couldn't hold back the happy tears.  Sister love!  Looking beautiful ladies!
How about this gorgeous fall park behind Bass Pro?  Love the trees, love the color, love the light, love the couple in love 🙂

Just beautiful!
Waterfall?  Yes please!  Waterfall plus sun coming through the trees?!?  Can I get a heck yeah!?


So pretty!

I love these last few shots.  The stone and the colors look beautiful.  And the cuteness and love between them is perfect! 🙂
Time to relax before the ceremony and get pictures of that adorable blonde, blue eyed ring bearer 🙂

Cheers!  Now let's get this couple married!

Sometimes you are super excited to be the flower girl, and sometimes you just want to throw your basket of petals down and cry until your daddy comes and rescues you.  I hear ya princess.  Don't worry, no children were harmed in the production of this wedding day. 🙂

Beautiful outdoor ceremony by the lake, or pond, or pond lake.  Something like that 🙂

Yay for a few more gorgeous outside pictures!  Now let's pray, eat and party!   (technically pray, eat, talk to guests, toasts, cut the cake, talk to more guests, dance, talk to more guests and dance some more, but you get the picture 🙂


Kid conga line and the shoe game!

Oh my goodness this last picture cracks me up!  Kids, just say no to your parents spinning you around like a top! lol 🙂

Aww brother and sister dancing together and free pony rides for all!  Kids are adorable 🙂

That's a wrap!  What a fun night!  Thank you Brantley and Lauren for trusting in us to photograph your very special day.  We wish you all the best in your future together! 🙂